The founder of psychoanalysis Sigmund Freud once remarked that "Words have magical power. They can bring either the greatest happiness or deepest despair; they can transfer knowledge from teacher to student; words enable the orator to sway his audience and dictate its decisions.
Words are capable of arousing the strongest emotions and prompting all men's actions." It is not an overstatement to say that words or positive words to be exact are incredibly powerful.
However, despite their power to transform our lives for better or worse, many of us are careless with the words that we use every of our waken moment. In fact, the majority of the words that we use in our internal dialogue are negative.
Language is not only how we communicate with others, but also how we communicate with ourselves. When we talk to ourselves using positive language we provoke a positive mindset. Having a positive mindset, in turn, enables us to live a happier and more self-fulfilled life.
The Nurse's Study is one of the longest and most comprehensive studies on human health. Every two years more than 70,000 women are given a questionnaire to complete. Harvard researchers went through various data from 2004 to 2013 to look at the impact of having a positive outlook. The study found that the participants that were most optimistic had a 30% lower risk of dying from all of the diseases measured.
Self-talk of positive words used consistently on a daily basis is one of the most effective ways of creating a positive mindset. You can use the positive words listed here as part of daily affirmations. Affirmations are short statements which positively uphold something about you. You can think of affirmations as a way of feeding your mind positive thoughts and intentions.
To get the most out of these positive words it is important that you create a habit. According to a study published in the European Journal of Social Psychology, it was found that it took on average two months for a behavior to become habitual.
So, here's how you can start just like I did. I put one positive sign in every room of my home!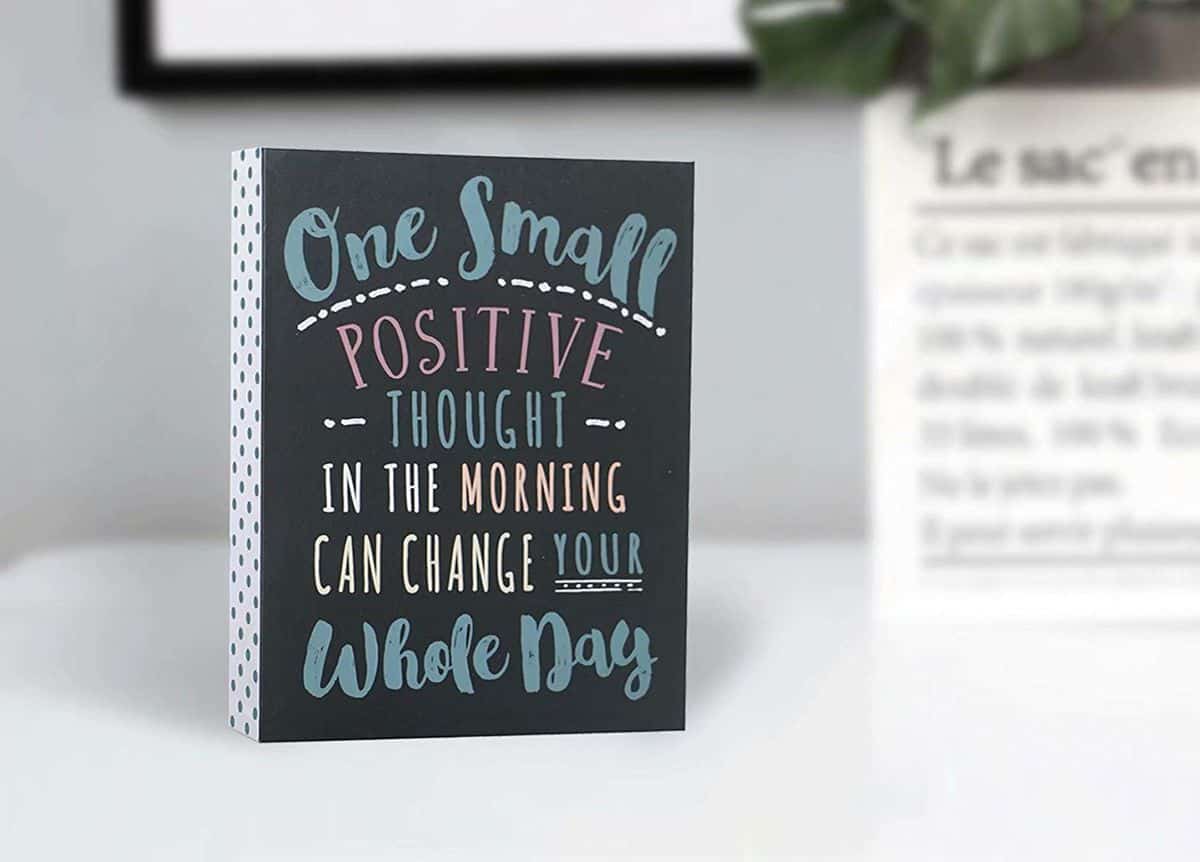 Simple, right? You'll be surprised how much of a motivational boost you get when you see these little reminders. Of course, if you want to find something different and be creative you may search for your own positive and inspirational decor that best suit your goals and lifestyle.
In order to instill positive self-talk as a habit make sure that you commit to a period of at least two months. If you continue the behavior for at least two months it will start to become automatic. After this, it will become an unconscious behavior which doesn't require conscious effort to perform. This is in much the same way as we don't have to think about brushing our teeth each morning. This is because it is an instilled habit.
There are endless positive words that you can use daily to create valuable self-affirmation, however, below are a few of my favorite words that have helped me and hope it will help you to improve that area of your life as well.

Self-Esteem Words
Acceptance
Admire
Adventurous
Alive
Amaze
Appreciate
Beautiful
Believe
Blessed
Brave
Brilliant
Electrify
Fortunate
Grateful Happy
Powerful -Persevered
Proud
Whole
Worthy
Self-Improvement Words
Accomplishment
Active
Complete
Creative
Excellence
Flourishing
Healthy
Helpful
Independent
Let go
Phenomenal
Reliable
Restore Resourceful
Secure
Strong
Success
Thorough
Transform
Unwavering
Self-Confidence Words
Competent
Dynamic
Effective
Elegant
Energized
Engaging
Fabulous
Innovative
Motivating Robust
Optimistic
Pleasurable
Prominent
Shining
Skillful
Terrific
Thriving
Trustful
Vibrant
Vivacious
Positive Attitude Words
Affluent
Authentic
Bold
Bright
Capable
Cheery
Delight
Determine
Encouraging
Fortunate
Gorgeous
Graceful
Great
Meaningful
Supportive
Vital
Welcoming
Willing
Wondrous
Zest
Positive Mindset Words
Electrifying
Exquisite
Imaginative
Intelligent
Irresistible
Keen
Limitless
Loving
Luminous
Mind-blowing
Passionate
Peaceful
Radiant Tranquil
Remarkable
Sparkling
Spiritual
Thankful
Trusting
Upbeat
Self-Belief
Bright
Certain
Courageous
Different
Earnest Creator
Jovial
Lively
Meaningful
Ready
Secured
Splendid
Strong
Superb
Talented
Tranquil
Unique
Valuable
Versatile
Wise
Goal Setting Words
Assertive
Brave
Certain
Consistent
Eager
Effective
Enthusiastic
Growing
Innovate
Knowledgeable
Lucrative
Mission
Motivated
Prepared
Productive
Renew
Revolutionize
Rewarding
Vision
Relationship Words
Adored
Appreciation
Attractive
Caring
Closeness
Connected
Exquisite
Genuine
Harmony Happy
Honest
Irresistible
Kind
Loving
Meaningful
Nurture
Open
Reasonable
Refreshing
Safe
Thoughtful
What are your Positive Words to make your day?
It is estimated that people have on average 45,000 to 51,000 thoughts each day and on average 80% of those are negative. Thus, you owe it to yourself to be one of the exceptional few who doesn't suffer from a consistent barrage of negative self-talk. Use the positive words list above to regain control over how you talk to yourself. Use these to create a positive and empowered mindset which will allow you to be happiest and become the most successful version of yourself.